Services and Benefits
in Twin Falls, ID
A Caring Hand offers a variety of elderly home care services in Twin Falls to best suit your needs. We provide companionship, CNA's, personal care services and respite care.
Personal Care Services: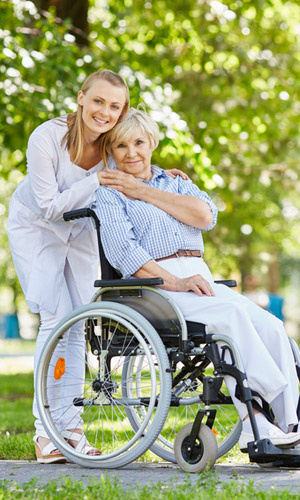 Light housekeeping
Meal preparation
Assistance with eating
Shopping and errands
Transportation to appointments
Medication reminders
Ambulation Assistance
Bathing and personal hygiene
Dressing
Aid in bathroom usage
24-hour live-in-care
Overnight care
Home safety evaluations
Post Hospital Care

Additional Services

Medicaid Eligibility
Respite Grants
Life Settlements
Long-term care Insurance
Elderly Care
We want to take care of your loved one so that staying home is still an option. Our elderly home care in Twin Falls enables your loved one to stay independent with the help of an assistant who performs light housekeeping, bathing, dressing, meal preparation and more. If you have a loved one who needs senior assisted living in Twin Falls, call us to get started.
Disabled Care
We can provide CNA care and assistance for people with disabilities in their homes, offering the necessary assistance to maintain a safe and independent lifestyle. People with physical or cognitive disabilities can experience problems with independent living, so we are here to assistant them to maintain their independence. Our senior assisted living in Twin Falls helps disabled individuals with the tasks related to daily living. Contact us to get started.
Caregiver
Our senior caregivers in Twin Falls are experienced and credentialed personal care attendants who provide non-medical care, and specialize in caring for the elderly or disabled. We are on call 24 hours a day, seven days a week to provide the most efficient and timeliest services possible. Contact us about Twin Falls elderly home care to learn more about our caregivers.
Incontinence Care
Incontinence is a subject that is not always easy to discuss with a loved one. Our Twin Falls senior assisted living caregivers are trained to discuss and assist with the loss of bladder or bowel control. We can help with toileting, changing attends, bowl care and personal hygiene. Do you need help or have questions about incontinence? Please contact us right away so we can extend the help you deserve.
Disabled Children Care
We realize that children living with disabilities or special needs have unique care requirements. Our professional caregivers provide respite care as well as child care including, but not limited to bathing and dressing. Our caregivers give them the care they need and the support they deserve. Call us today to get started.
Senior Care Resources
A Caring Hand also offers companions and hospital sitters to give you loved one attention to promote safety and prevent loneliness, during a hospital stay or when family is unavailable.